PLM has launched into the digital age.
In case you missed it, Domain Systems teamed up with Beyond PLM blogger and OpenBOM CEO, Oleg Shilovitsky, for the webinar, "The Digital Future of PLM."
PLM practitioners want to know more about the digital evolution and what it will mean to them. Oleg starts by discussing how PLM has evolved from the "Single Source of Truth" being the backbone of technologies to the "Digital Twin and Digital Thread." He mentions that whatever PLM becomes. Its core function will always be to organize product information and processes within business areas and databases.
How will we improve upon this in the future?
PLM 4.0
Oleg points out that data is driving PLM's evolution. Organizations that can rapidly collect, share, and analyze the available data gain a significant advantage.
Tomorrow's business will be able to leverage data from within and without its supply chain in near real time. Modern organization will be thought of as a node within a network that seamlessly aggregates and disseminates information via interconnected software-based solutions.
One of the key challenges to this digital transformation is the necessary paradigm shift at all levels of the organization. No area of the business can be disconnected from the vision. For example, what happens if the focus is only on PLM? You may find engineering wants to retain control of their data and files in away that preserves silos. Other business areas might prefer the ease of spreadsheets and continue managing key information sets apart from the enterprise record. Business modernization is easier said than done but it is possible.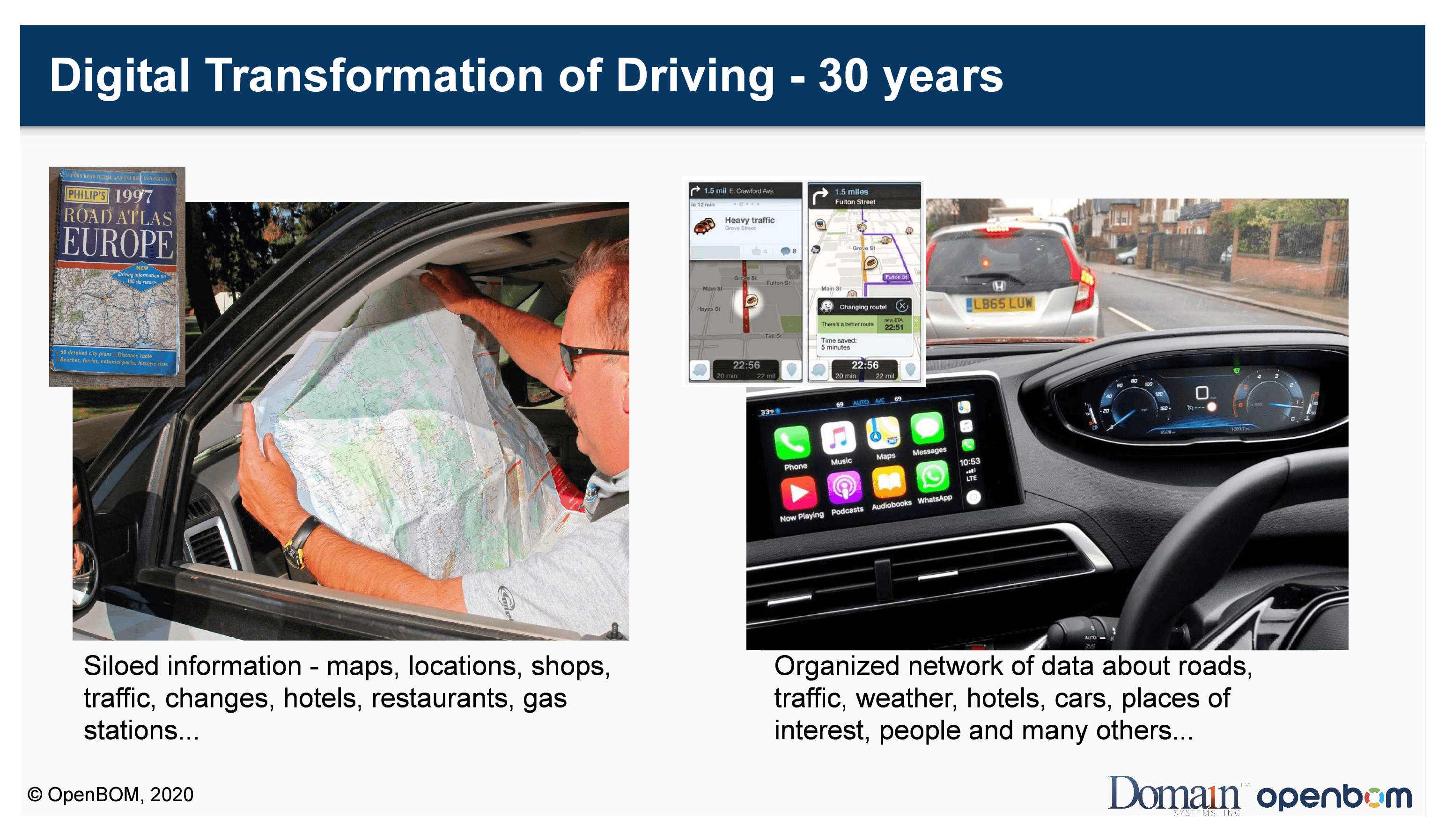 He highlights other Digital Transformation. They too did not happen overnight. Oleg presented an example that illustrates the kind of efficiency realized in the automobile industry that has taken 100 years for a car to be manufactured the way it is today.
Technologies take time to advance and become integrated. Technology is just part of the digital evolution. Processes have an will continue to improve.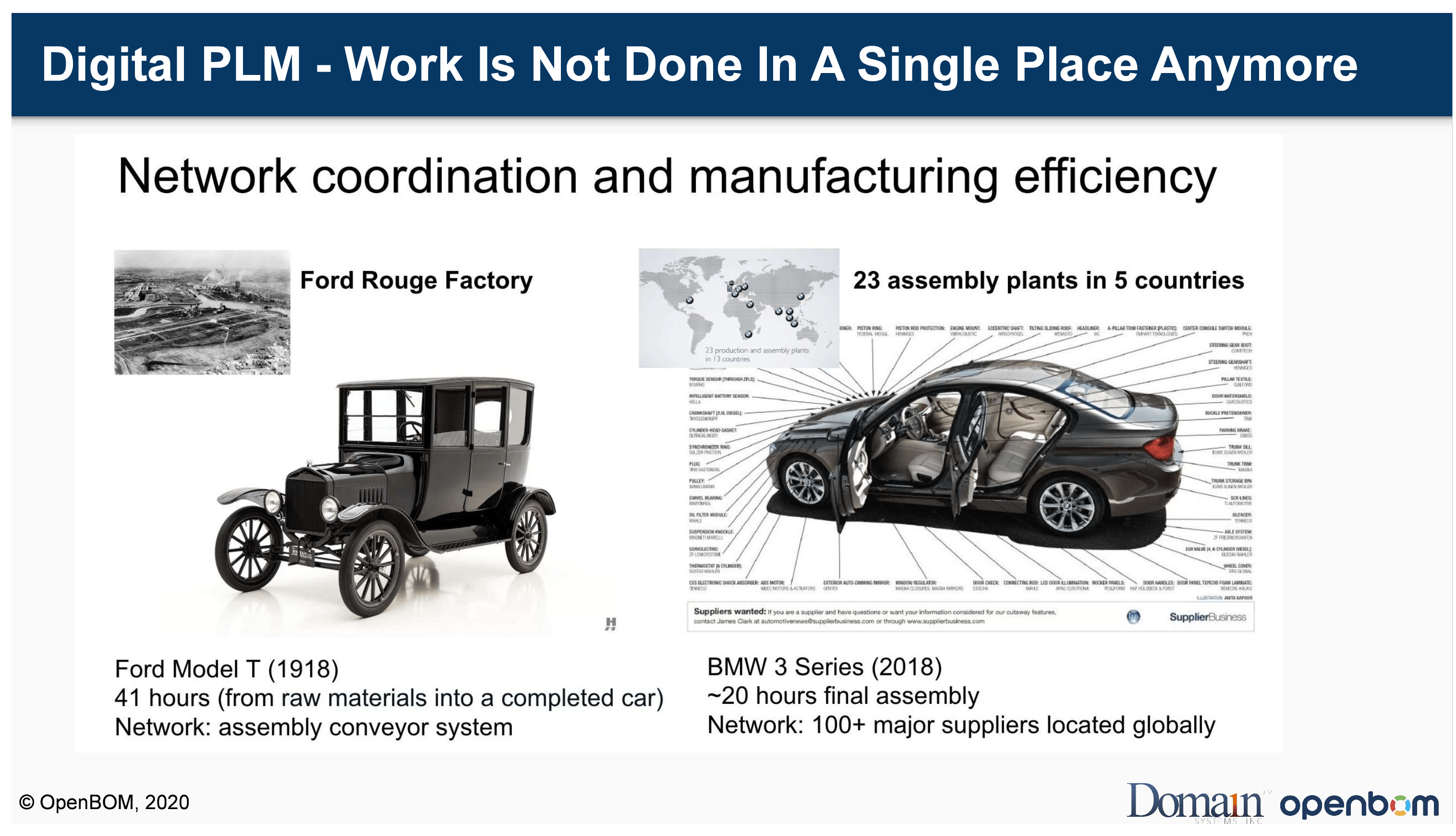 While the Digital Transformation of PLM will not take 100 years, it will take at least 5-10 before business' begin to leverage this network concept.
BENEFITS OF value CHAIN NETWORKING
So, why should we adopt this network approach?
The current "single version of the truth" (single tenant database) is unrealistic with today's businesses. Reality is that they need to address multiple databases, which is easier in a multi-tenant model. Once in multi-tenant, businesses hope to solve with a networking approach are with costs, time, and resources spent on upgrades.
The first question asked at the end of the presentation was about the challenges to a Networked PLM. He answered the most obvious challenge is that the internet can go down. What was connected in real-time is not connected at all. And online exposure presents risks. The increased need for security cannot be ignored.
WE have only scratched the surface of tomorrow's PLM. I do know many organizations that do not have such complexity and costs with upgrading. What is their incentive to step into the digital future?
After the webinar, I found myself wondering:
About more of the challenges of early digital transformation, PLM technologies themselves being a work in progress. What does that may mean to businesses?
When is a company mature enough to adapt digital transformations? What it looks like to a startup vs a global complex organization. Maybe it takes 10 years to fully adopt the new paradigm for larger, more complex organizations. What are the steps they can be doing "now"?
What kind of industries have been early adopters? What are their success factors?
Oleg's conversation was most appreciated, insightful, and gave us all something to think about.
For additional insight, check out Oleg's blog, Webinar: The Digital Future of PLM.