If your company is still operating on an older version of Oracle Agile PLM you may not know what you are missing.
Those that are still on relics like Agile 8.5, Agile Advantage or even early Agile 9.3 get really excited about some simple User Interface/User Experience enhancement. While there are many reasons to upgrade, the user experience is often undervalued when compared to what comes under the hood.
It's important to keep in mind that user adoption, productivity, and job satisfaction all improve when the user experience elevates.
Oracle developers have done well at introducing users to significant upgrades and enhancements beginning right around version 9.3.2.
Let's take at look at 10 that have received the best reception from our end users, change analysts and administrators.

10 - Object Edit Conflict Resolution
It used to be that if two users were editing the same object at the same time, whoever clicked 'Save' last won, by overwriting the first users edits.
Besides irritating users, this could easily result in incorrect data being stored in the object.
The new SmartRule "Object Edit Conflicts" allows the system administrator to control the behavior by selecting one of the following options:
Allow: continues the previous system behavior explained above.
Warning: notifies the second user that they will be overwriting another user's saved changes. The user can then decide whether to continue or cancel their Save.
Disallow: forces the second user to cancel their Save action, refresh the object, and make their changes again.

9 - Removed Reset Password Option for LDAP Users
Prior to 9.3.3, LDAP users still had the Change Password feature enabled for their User ID.
This used to be a big annoyance because, when synced to your company's Active Directory, users cannot change their LDAP password through the Agile interface.
With 9.3.3, the Change Password feature is now disabled for LDAP users, eliminating both confusion and frustration.

8 - Navigator Expansion
Additional object tabs and object types have now been added to the Navigator functionality, greatly expanding the navigational usability as well as the drag and drop capabilities of this feature.Previously, when pushing an Item to the Navigator it only included the BOM tab.
Now, you can browse through additional tabs from the Navigator, such as the Relationship, Manufacturers, Change History, or Pending Changes tabs.
New object classes that can be pushed to the Navigator include Changes, Product Service Requests, Quality Change Requests, Declarations, Specifications, Part Groups, and Sourcing Projects.

7 - PPM Gantt Chart Improvements
If you're a PPM user, the Gantt chart enhancements made in Agile version 9.3.5 are substantial.
You can now view and edit multiple projects in the same Gantt session using the new Project Navigator.
Improved Tooltips along with custom filtering and improved views for Task Assignment, Resource and Comparative Gantt all add up to a more streamlined interface, improved efficiency and a more satisfying user experience.

6 - Controlled Visibility of PX access from Actions or Tools and Settings Menus
Process Extensions (PX) provide handy automation for users, but the ability to execute them sometimes needs to be restricted.
Prior to 9.3.6, any user could run a PX that was accessed from the Tools and Settings menu, or from the Actions menu of objects that the user can discover and read.
Now the Agile administrator can restrict this capability to only those users who have been assigned a specific role.
This can save a lot of time and annoyance for users and administrators who have to undo changes made by the inappropriate triggering of a PX.


5 - Edit Search Criteria Button in Web Client Searches Folder List
If you wanted to edit a saved search prior to Agile 9.3.6, you had to run the search first. Then you could edit the search criteria or format options.
For large searches this could be a real time waster. Now each search has an Edit Search button that lets you edit the search before running, if you choose.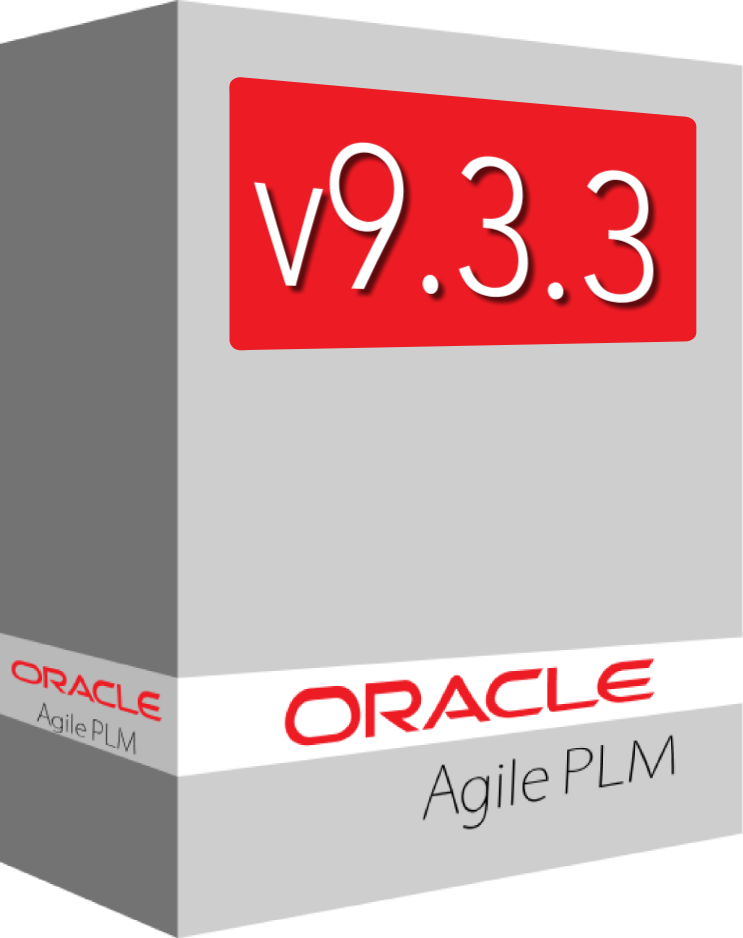 4 - Save As New Search Bug Fix
Users love to save searches. It saves time and provides consistency.
Sometimes, we like to take saved searches and use them to create a new search. Prior to 9.3.3, this "Save As" process had a bug in it.
Instead of simply saving a new search with your new criteria or output formatting, it also overwrote the original search in favor of the new parameters.
Star Trek fans, if you are thinking that this sounds a bit like the Genesis Project, you are right. Users who constantly had their saved searches overwritten by this particular bug are delighted to see it has been squashed!

3 - New Rev as an Entry and an Exit Required Field on Workflows
The administrator can now make the New Item Revision field a required field at any Change Order status. Prior to 9.3.6, it was automatically checked before moving to the first released status.
Now you can make sure it is entered before the change goes out for review just by running the standard status audit.

2 - Introduction of Large Text Fields
This new field type was a long time in coming. You can utilize them as either very large multi text fields or you configure them to allow journal entry that behaves like a blog.
Unlike multi text fields that max out at 4,000 characters, Large Text fields can contain up to 2,000,000 characters. They can also be configured for rich text or HTML formatting options, such as font format, ability to add tables, images, URLs, etc.
Large text field types are a great way to incorporate data and communications that you may currently be storing in a company WIKI or other program external to Agile.
Now you can manage that data directly in Agile so that it is incorporated into your Product, Change, Quality, Compliance, NPI and Program Records.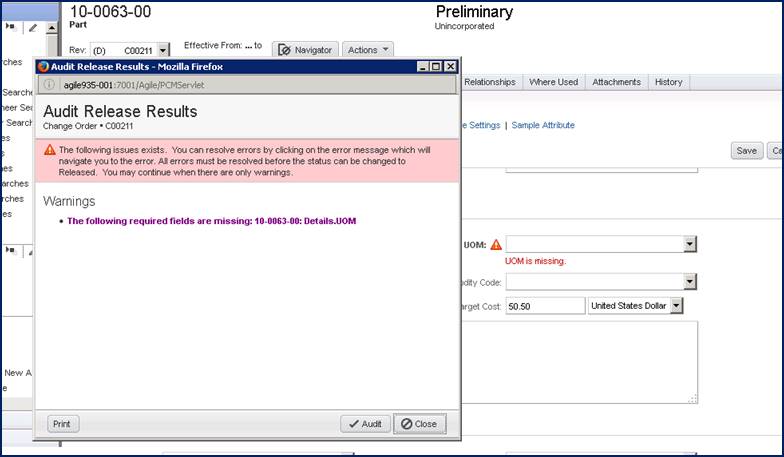 1 - Workflow Audit Screen Enhancements
For many users, this updated feature alone is worth the price of admission to a shiny new version of Agile PLM. If you write or process change orders or other routable objects, you'll love these updates to the Workflow Audit Screen:
Each error and warning is now a hyperlink that takes you directly to the problem and opens the tab in entry mode. This works whether the audit error is in reference to a field on the routed object or on the affected item.
For "Unreleased Child" messages, simply click the error or warning to immediately add the wayward missing component onto the Affected Items tab of your change order.
An "Audit" button has been added directly onto the Workflow Audit Screen. This works nicely to refresh long message lists and remove the errors and warnings already resolved.
The Grandfather Clause
Going forward, keep in mind that when you upgrade your version of Agile, all previously released features are automatically included in your software. For example, if you are running Oracle Agile 9.2 today, but tomorrow decide to upgrade to version 9.3.5, you will have enhanced your environment with the features, fixes and functions in releases 9.3, 9.3.1, 9.3.2, and so on).
Add to that, Oracle's recently improved update model (supports versions: 9.3.5 - 9.3.6), which affords users the option, every other month, to install a light-weight Release Update Pack (RUP).
From a user's perspective, there have been some pretty handy enhancements written into these past few releases.